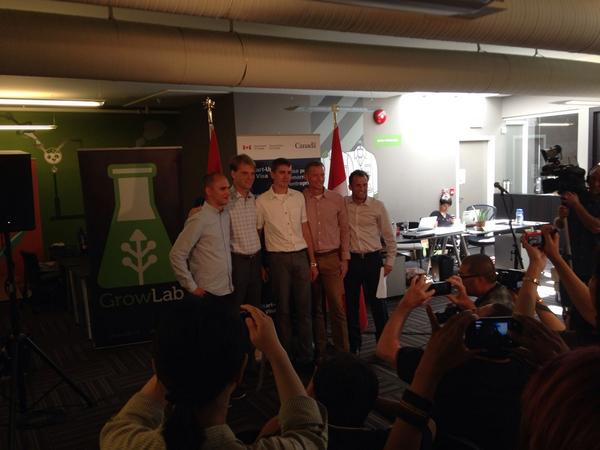 The federal government announced on April 1st of 2013 that they wanted the world's best and brightest entrepreneurs to call Canada home and opened applications for their new startup visa (SUV) program.
Jason Kenney, Citizenship, Immigration and Multiculturalism Minister at the time, issued a news release proclaiming that Canada was open for business.
The SUV Program was the first of its kind in the world, providing sought-after entrepreneurs with permanent residency and access to a wide range of business partners.
Designed to attract high quality entrepreneurs who can advance the Government's innovation agenda, the SUV is a five-year pilot program and is limited to no more than 2,750 applications per year.
RELATED: CBC's The National Has a Closer Look at Canada's Startup Visa Program
In October, Minister Chris Alexander (Kenney's replacement) announced that the program was being expanded to include a new stream for business incubators.
Today at the Vancouver's GrowLab Minister Alexander announced a significant step for the Startup Visa Program. GrowLab portfolio company Zeetl and their co-founders Stas Korsei and Alex Zadorozhniy have successfully gone through the program.
The Zeetl team hails from Ukraine and discovered GrowLab through the Startup Visa Canada program. They reached out to Version One Ventures, which is led by GrowLab co-founder Boris Wertz. While Zeetl was too early for venture funding they managed to secure a spot in the Fall 2013 cohort after going through a rigorous application process.
GrowLab Executive Director Jonathan Bixby shared his excitement with Techvibes, "Both Mike Edwards and I are tremendously proud that we are part of this announcement of the first successful company to make it through the Canadian Start-Up Visa program. We are excited about the future of the Start-Up Visa program and building the knowledge economy in Canada."
Congrats to Bixby (and his predecessor Mike Edwards) for being the first accelerator in Canada to take advantage of the program.